Amitabh Bachchan's blockbuster film 'Shahenshah' was released in January 1988, but few months before its release almost 30 years ago, the film's music was released in a big way at a Juhu Hotel. It was a big function for Amitabh Bachchan's  (Big B) comeback, after his stint as a parliamentarian. As a freelancer, I was covering this function for a film magazine. I was little before time, as I lived in Juhu those days.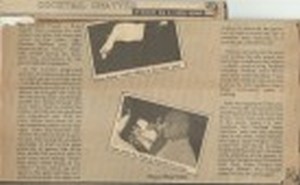 Meenakshi Sheshadri was there to welcome the invitees with her folded hands and smile. Then arrived director Tinu Anand who came personally to greet all those who were present before time. As the scheduled time approached closer, all eyes were at the gate for Big 'B's arrival, as he was known for his punctuality. But, that day, Mr.Bachchan wanted to  give a surprise to his director friend Tinu Anand. He suddenly appeared from nowhere near poolside and pushed his friend into the pool. Taking this moment very lightly, Tinu climbed up shivering in that position, with a smile on his face and greeted his dear friend.
In spite of repeated requests from friends to change his clothes, he preferred to remain in wet clothes, perhaps to narrate the mischief played by his friend. He only dried his hair, with the help of towel provided by support staff of the hotel. In the company of stalwarts like Pran sahab and Amrih Puri he had some wine to keep himself warm. This incident only caused embarrassment to a big celebrity like Amitabh Bachchan and I am sure, he must not have dared to play such a mischief again.