Anurag Basu as a film maker has offered some good films like 'Murder', 'Life in a Metro' and 'Barfi' but at the same time some of his films didn't do so well. However, most of his films had good music. This time Anurag Basu  through his latest film 'Jagga Jasoos' has tried to offer a complete musical entertainer, with the help of Siddharth Roy Kapoor and Ranbir Kapoor, which is  based on his own story. There is no doubt that presenting a musical spy thriller is  a new experiment in Bollywood, but the manner in which it has been presented, leaves a doubt whether the action film lovers would enjoy the narration through songs at frequent intervals.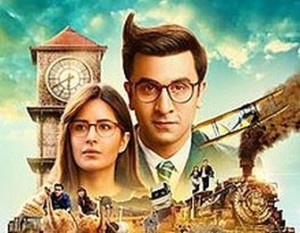 Actually, 'Jagga Jasoos' revolves around a simple  story of a youngster Jagga ( Ranbir Kapoor) , who is an orphan, but adopted by his so called guardian Prof. Baggchi( Saswata Chatterjee)  , who goes missing during his childhood. But, the professor keeps sending recorded Video cassette on his every birthday. The film is set on the backdrop of the famous 1995 Purulia arms drop incident  and the mystery behind disappearance of Prof. Bagchi and the people behind it. And, we notice Shruti( Katrina Kaif) an investigative news reporter also on the mission of investigating the arms drop incident, meets Jagga Jasoos and both of them try to unveil the mystery behind this incident.
As the screenplay progresses, we get to see many such song based narrations combined with stunts and thrills of Jagga with the support of Shruti. But, the happenings are extended too much, so as to test the patience of the audience for almost nearing 3 hours. And, this is the biggest drawback of this film.
Perhaps, the long time taken for the making of this film, could be one of the reasons. But, Ranbir Kapoor has given his best through his one more best performance. Good support comes from Katrina in a different look. Among others, Saswata Chatterjee and Saurabh Sharma have also done well in the supporting cast. Ravi Varman does well as cinematographer, while Pritam offers only one good song. Rest of the songs, he has gone on the style of Bollywood's first rapper Baba Sehgal. Those who love to watch Western Opera style performances and too many rap songs, may like this film. Others may only  test their patience. All in all, 'Jagga Jasoos' is not the type of film you expect, after watching the repeated promos on your  television screens.