20 years ago the pair of Raja and Prem played by Salman Khan & Salman Khan entertained the Hindi film lovers of 90s. Now, young Varun Dhavan finds a chance to play these two characters. Thanks to his father cum director, who obviously thought that there is none other than his son to play this double role in the company of two beautiful actresses Jacqueline Fernandes and Taapsee Pannu.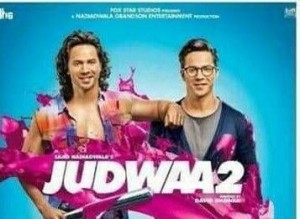 Set on the backdrop of Mumbai and London, the film's screenplay progresses on the lines of the original film 'Judwa', to offer outdated script, without developing it. So, it's more like serving  just old wine in a old  bottle, with just changing the artistes, to target the young audience. The music too reminds 90s period. Varun Dhavan does make a sincere attempt to prove himself a good comedian and also finds good support from his female co stars. The director of this film is excused for not following the logical thinking, looking at his past record.
All in all, this film has failed to develop the outdated script, as the film maker perhaps didn't want to put in extra effort. So, it has turned out to be an ordinary pass time film, which does make you giggle on few occasions.