The title of the film 'Mubarakan' is a Punjabi word adopted from Urdu and means Congratulations. But, the occasion to congratulate the twin brothers Karan and Charan on their marriage has been overstretched to almost 2 hours 30 minutes by director Anees Bazmee in the process of presenting a typical Punjabi style comedy. The entire film revolves around the twin brothers played Karan & Charan (Arjun Kapoor and Arjun kapoor), who are scared to reveal their relationship with their respective girlfriends Sweety ( Illeana D'cruz) and Nafisa ( Neha Sharma) to their strict father( Pawan Malhotra).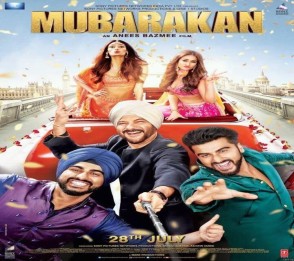 Actually karan is based in London with his aunt Jeeto( Ratna Pathak Shah), who fixes his marriage with Binkle (Athiya Shetty), daughter of the very rich person Mr. Sandhu (Rahul Dev). To avoid this marriage Karan seeks help from his uncle Kartar( Anil kapoor), whose plans results in a major tiff between Jeeto and Karan's father. Then begins the real drama over confusion of two brothers, whether to marry their girl friends or go for arranged marriage to make their parents as well as aunt happy. In the process there is over acting by few characters. But, Anil Kapoor impresses through his important role. Arjun Kapoor has done justice to his both the roles and shows a lot of maturity in his acting. Illeana D'cruz and Neha Sharma are just fine, but Athiya Shetty is impressive with her looks and limited role. All in all, 'Mubarakan' offers a typical Punjabi style comedy .
Director has tried his best to create humour through many scenes, but he has not been able to hold the audience to their seats throughout the film, as the screenplay is not very satisfying. Music of the film is just satisfying, but cinematography by Himman Dhamija is impressive.
Rating ( ***)