Films based on history have always invited the attention of film lovers. In the past during 40s, 50s and 60s, films like 'Sikander', 'Jhansi Ki Rani', 'Mughal E Azam', ''Taj Mahal', 'Aamrapali' created the desired impact on the audience with period stories of those who had found their names in history. Thereafter in 21st century, makers of  some films like 'Ashoka' , 'Mangal Pandey-The Rising' and 'Jodha Akbar' tried their best to offer history based stories, by taking cinematic liberties, but they could not match the standard of 'Mughal E Azam'.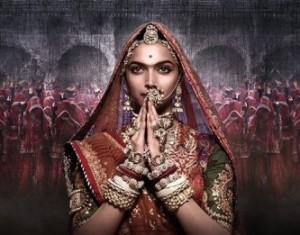 Now, film maker Sanjay Leela Bhansali offered a story of Queen Padmawati who was married to noble king Ratansingh of Mewar. But, through this film, the film maker has tried to magnify the character of  the cruel & ambitious Sultan Alauddin Khalji, who in spite of marrying a beautiful girl in his relation, is lured by the beauty of another married woman-Padmawati- the queen of Mewar.  He acquires his Uncle's( Jalaluddin)  Kingdom by Killing him. So, Mr. Bhansali besides offering scope to his favourite hero Ranveer Singh by presenting him as a villain, has also offered him a song in which he displays his new dancing steps, giving better scope to choreographer of the film.
There is no doubt that Deepaka Padukone steals the show with her beauty and performance, but Aditi rao Hyderi also looks equally stunning in those few scenes to her share. In the process of offering more scope to Deepika and Ranveer in this film, the film maker has done injustice to Shahid kapoor and his character , though he is the hero of the film.
'Padmaavat' scores on account of its grand sets, beautiful art design and high production values. Music is good for one song, but fails to appeal through other songs. The background music and sound design is apt to suit this history based film. In the action scenes, we find a lot of resemblance with few action scenes of 'Bahubali'. If this film is to be really enjoyed, it should be watched in 3D format.
Rating (***)