'Sarkar-3' review
It seems that film maker Ram Gopal Varma and actor Amitabh Bachchan have fallen in love with the character of Subhash Nagare; so much that there is a possibility of  series of  'Sarkar'. Now, through Part 3 of Sarkar both of them have once again tried to remind their fans that the real power is not about fear, it comes out of respect.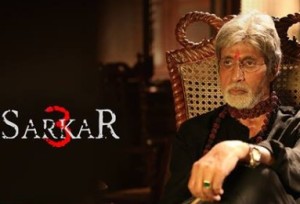 In the latest version of 'Sarkar', we find Subhash Nagare( Amitabh Bachchan) trusting  his grandson Shivaji ( Amit Sadh) almost on par with his trusted  aide Gokul Satam (Ronit Roy) and inviting new problems for himself. His rivals around in the form of opposition politician Govind Deshpande( Manoj Bajpayee) and Dubai based  Michael Vallya( Jackie Shroff) try to take advantage of this situation. But, Sarkar still stands tall.
In this part, we see more of interactions taking place in Nagare's dim lit residence, be it with his ailing wife, his trusted aide, his grandson Shivaji  or the visitors coming for some favours. And in all these scenes Mr. Bachchan impresses with his facial expressions and his style of delivering the dialogues, while sipping the tea from saucer. However, there are very few important happenings taking place in this 3rd part of 'Sarkar' which is disappointing. Even the character of Dubai based rival of Nagare, Michael  played by Jackie Shroff doesn't look dangerous at all. He has been projected more in a flamboyant style, most of the time in a swimming pool with his female companion. He and Manoj Bajpayee find only one scene each to interact with Mr. Bachchan.
As a director Ram Gopal Verma has paid more attention on his important characters and their performances, instead of making the screenplay interesting. Even some of the dialogues are repeated. Amit Sadh, who has been given better scope in this film, does well, but Yami Gautam and Rohini Hattangadi have limited scope, as this has turned out to be a male dominated film. background music is just fine. Most of the film has been shot in dim light indoors.
All in all, 'Sarkar 3' has failed to create the desired impact, expected from this part. It has just turned out to be a performance oriented film. So, if you are a great fan of Mr. Bachchan, don't miss it.