Mumbai's young rising star Suhaani Lohia has added another historic feather to her cap by winning the bronze medal in the Girls' Under-8 category of the Commonwealth Chess Championship 2017, which concluded in New Delhi on Monday.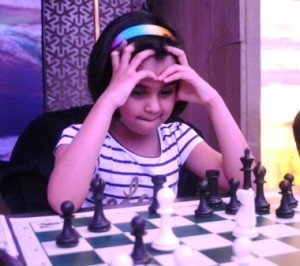 A talented Women Candidate Master Suhaani, representing India and ranked third finished with an extremely creditable score of 5.5 out of 7 games. She and compatriot Hiya Panchal, ranked seventh, who also ended with 5.5 points, were tied in second spot, but the latter with a better tie-break progressive score clinched the silver medal and Suhaani had to settle for the bronze.
India's WCM Shefali A.N. from Karnataka and ranked number one finished with a tally of 6 points and emerge champion and took the gold medal.
Balaji Guttula, the chief coach of SMCA, was full of praise and lauded Suhaani's bronze medal winning efforts. "Suhaani winning the bronze medal is all because of her commitment and hard work and I congratulate her. She is a bright, talented girl and with the proper guidance and grooming she has the capabilities to become a world beater and India's next most celebrated chess player," said Guttula.
Suhaani, a student of Dhirubhai Ambani School and who trains at the South Mumbai Chess Academy (SMCA), is more than a chess trailblazer in the most competitive field of junior chess who has always proved her mettle in the most competitive age group tournaments. She has also won a silver medal in the National Under-7 age group championships and twice in National schools tournaments.
Grandmaster and former world junior champion Abhijeet Gupta and Women Grandmaster Swati Ghate, both from India bagged the gold medal in the Open and Women's categories respectively.