It is not the first time that actress Vidya Balan has performed in a film with woman oriented subject. Eversince, she performed in the film 'Parinita', Vidya has highly impressed through her performance in films like 'Kahani','Kahani-2', Dirty Picture','Lage Raho Munnabhai' and so on.  But, her latest performance in the film 'Tumhari Sulu' is something special. Playing the title role of Sulochana Dubey nicknamed Sulu, Vidya has put her heart while  playing this character, though the script has some limitations.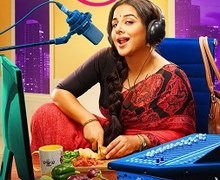 In spite of being a housewife and mother of a 11 year old child, through this character we find her struggle to become a working woman , though  she couldn't complete her high school and cannot think of any blue collar jobs. One day changes her life, after winning a contest of her favourite radio station. She even finds a job, but her emotional connect with family puts her into dilemma. But, all is well at the end, with a surprise in the climax.
Overall, this is an entertaining film, with good performances from all other artistes, besides Vidya's award deserving performance. Cinematography by Saurabh Goswami is good with some support coming from music by group of music composers.